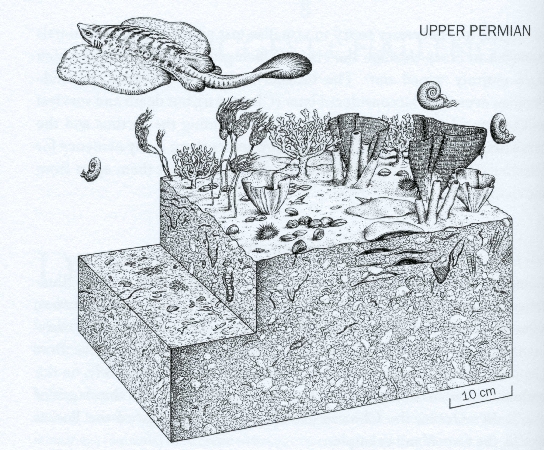 Permian Mass Extinction
This happened: 248 million years ago
End of the Permian period
Start of the Triassic period
The Permian mass extinction has been nicknamed The Great Dying, since a staggering 96% of species died out. All life on Earth today is descended from the 4% of species that survived. The event turns out to have been complex, as there were at least two separate phases of extinction spread over millions of years. Marine creatures were particularly badly affected and insects suffered the only mass extinction of their history.
A lot of theories have been put forward about why and how, exactly, the vast majority of Earth life went belly up 252 million years ago, but the new study, published in Science, offers some compelling evidence acidification was a key driver.
A team led by University of Edinburgh researchers collected rocks in the United Arab Emirates that were on the seafloor hundreds of millions of years ago, and used the boron isotopes found within to model the changing levels of acidification in our prehistoric oceans. Through this "combined geochemical, geological, and modeling approach," the scientists say, they were able to accurately model the series of "perturbations" that unfolded in the era.
They now believe that a series of gigantic volcanic eruptions in the Siberian Trap spewed a great fountain of carbon into the atmosphere over a period of tens of thousands of years. This was the first phase of the extinction event, in which terrestrial life began to die out.
(Source: Vice Motherboard—The Last Time Oceans Got This Acidic This Fast, 96% of Marine Life Went Extinct, BBC Nature—Big Five Mass Extinction Events)
Learn More